RALPH'S CIDER & PERRY
HISTORY
Encouraged by memories of his grandfather, Ralph decided to follow in his footsteps
and have a go at making cider, could he match the outstanding quality of his grandfather's
cider's, only time would tell.
Ralph has been making cider since 1976.
A move to Anglesey from Shropshire in 1978 posed a real problem to Ralph's new found hobby, (He
became a farm manager for Bertram Bulmer, of Bulmer's cider). This new job was not Ralph's problem
though, his concern was the lack of cider fruit on Anglesey and in north Wales as a whole.
After a bit of thought these difficulties were overcome. The half term holidays from school in October
became the annual pilgrimage to Radnorshire, Ralph's cousin's ancient orchard of white Norman apples
was the venue, with apples ripe for pressing the family picked as many bags as they could. The apples
were then loaded onto the landrover & trailer and transported to a farm just outside Hereford for
milling and pressing.
The precious juice was then poured into a 56 gallon barrel in the back of the landrover, kid's and all,
for the journey back to Anglesey.
Bertram Bulmer encouraged Ralph to continue his production of cider, but with a clause, a limit of
one barrel a year!, after all, the farm work had to be done!!.
The cider made in 1982 was an exceptionally good one, Bertram (quality control) decided to take
a bottle back to the laboratories in Hereford for analysis. It was declared the best tasting cider that
year - clear, bright with an alcohol content of 8%, needless to say it did not last very long.
A move to Old Badland in 1986 was Ralph's opportunity to farm for himself, a hard decision
to make but with the backing of his family an opportunity not to miss. He knew the farm had a
small orchard of very old trees, so began the challenge,
to restore it to its former glory.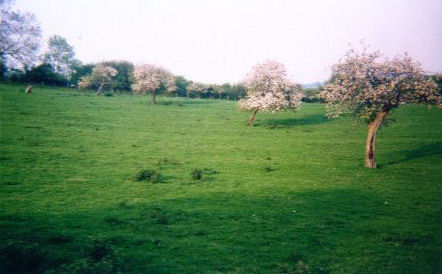 Photos of the orchard before too much replanting had been done.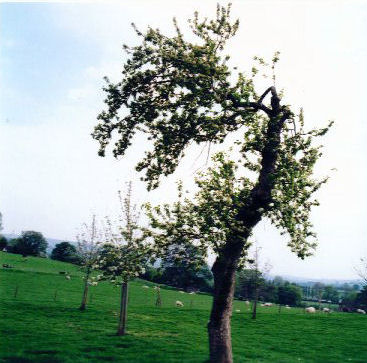 Work started on the orchard with standard trees being planted in the foreground
---
All content © www.ralphscider.co.uk 2018 All rights reserved.
---